---
---
Industrial Communication
COMMUNICATION GATEWAYS AND CONVERTERS
Features:
Solution of data transfers in the environment of power plants, switching and transforming stations and supervising dispatcher centers.
Transfer of data via Ethernet, GSM or serial line communication.
User on-line or off-line parameterization of conversion SW.
Availability of special devices developed for the purposes of data concentration and protocol conversion.
Development of special conversion SW according to the user requirements.
SW development in close cooperation with customer.
Development of special communication HW on request.
Wide experience of AIS staff in the field or protocol conversion.
Typical applications:
Connection of old RTUs to new SCADA or new RTUs to old SCADA.
Conversion of older or odd communication protocols to IEC101, IEC103, IEC104, IEC61850 standards.
Data concentration and conversion of various communication protocols to one final protocol.
Solution of data collection from distributed sources.
Solution of problems with connection of devices using incompatible ways of communication.
Conversion on physical layer (e.g. communication media, baud rates etc.).
Supervising of various devices using the protocols like SNMP etc.
User-oriented solution.
Upgrade of user system with utilization of older but working hardware.
Typical conversion scheme: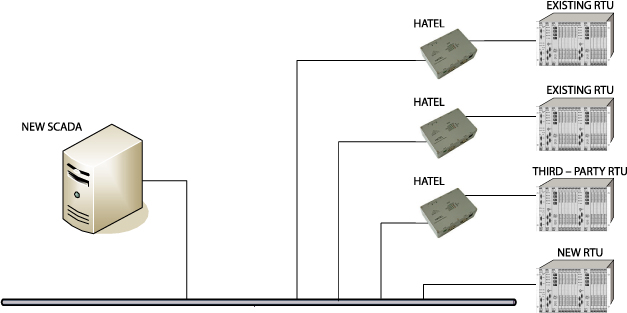 Typical concentration scheme:

Download this sheet
---
Realized by webservis.cz