---
---
MEASUREMENT OF ELECTRICAL LINE PARAMETERS UNDER CONTINUOUS OPERATION
Features:
On-line measurement of voltage and current synchrophasors.
Simultaneous measurement on both ends of electrical line in all three phases.
Calculation of line parameters and their transfer to all relevant applications.
Line parameters and their meaning:

R - conductor temperature, line sag, active loses.
X - reactive losses, voltage drop, network stability
B - reactive losses, open circuit voltage.
G - active losses, line quality.

High accuracy GPS time synchronization of measurement.
In-place measurement under continuous line operation.
Evaluation of trend of changes in line parameters by repeated measurement.
PMU conforms to IEEE-C37.118 standard.
Typical measurement scheme: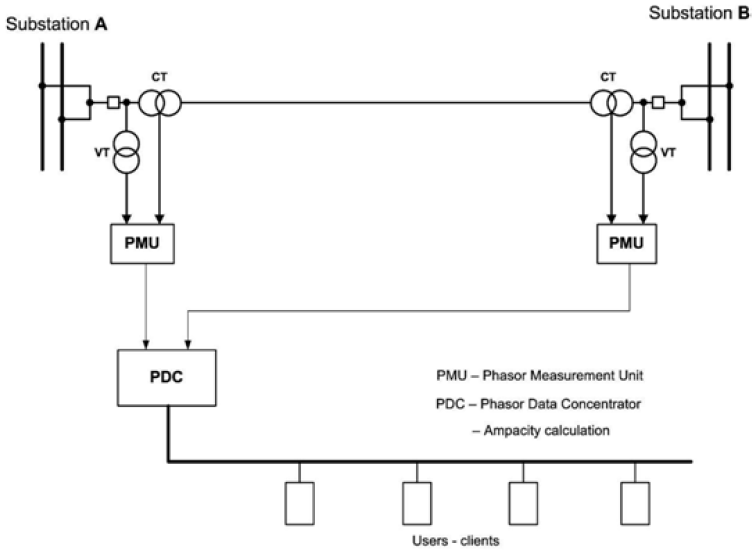 Application benefits:
Knowledge of actual values of parameters brings:

Better functionality of protection units.
Higher precision in estimation and network computation applications.
Higher precision in calculations of losses.

There is need to break the electrical line during measurement process.
Cost savings in preparation of measurement conditions.
Minimum preparation time for customer.
Possibility of repeated measurement under different load and atmospheric conditions with consequent time-based analysis and evaluation of changes of line parameters under various conditions.
Offline data processing:
MS Excel® - based multistage data processing.
Automated data filtering and sorting.
Embedded library with functions for various asym-metry models.
Charts for better data series filtering.
Equivalent scheme of line:

Parameters and losses in low quality line: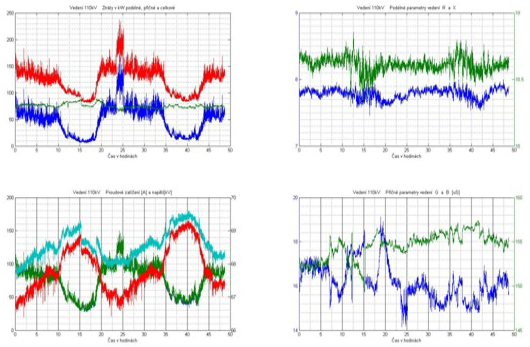 Terminal – Phasor Measurement Unit (PMU) specification:
Stand alone unit with in-place compute functions, storage option and remote parameterization.
Fast parallel measurements — typically 10 kHz.
Various measurement inputs for range of instrument transformers.
8 inputs per terminal.
GPS time synchronization - phase precision < 0.1°, voltage and currents precisions < 1%.
Wide range of communication options on physical layer (Ethernet, RS-232, GSM/GPRS) and standard protocols (e.g. IEC-68570-5-101/103/104, IEEE-C37.118) implemented.
Conforms to EMC standards for industrial environment.

Download this sheet
---
Realized by webservis.cz